Fellowship Building 团契建造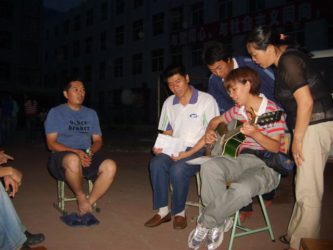 Agape Way facilitates edification and fellowship building by providing materials and trainings, such as
Agape Bible Reading
and
Reconciliation Evangelism
, for Christians to reach people for Christ. Agape Way also plants Fellowship of Agape Reconciliation (FAR) and Church of Agape Reconciliation (CARE) where they are needed to order to serve the Lord more effectively.
博愛团契建造旨在通过提供福音资料和工人培训,比如《博愛读经》和《归和布道法》等,坚固基督教会和团契,为神国服务。博愛路也在有需要的地方建立博愛归和团契(FAR)和博愛归和教会(CARE),更有效地服侍和荣耀上帝。
Dear Brothers and Sisters, 
Greetings in Christ!
Attached is Agape Bible Reading for this week ABR182.
As we all can see, the world is changing. It seems that God does not change with us. That old God seems very stubborn.  Many things God said thousands years ago many of us feel they ar…
What can you do? 如何参与
Pray
— Become a pray partner to pray for Agape Way ministries regularly.
祷告
— 成为博爱路祷告伙伴,经常性地为博爱路事工祷告。
Give
— Sponsor individual students, or support Agape Way ministries or missionaries with monthly or occasional financial contribution.
捐款
— 认养贫穷学生或改善学校的项目;支持中国福音事工,传道人生活和博爱路运作等。
Volunteer
— Join Agape Way for mission trips, introduce Agape Way to your friends, small groups and churches; Help Agape Way with communications, fundraising and other ministry activities.
义工
— 参与博爱路短宣等事工项目,或向您的朋友、小组和教会介绍博爱路事工;在通讯交流、网页、筹款和其他方面投入博爱路事工。
Check out more on
Support Us
详情请点击
支持我们